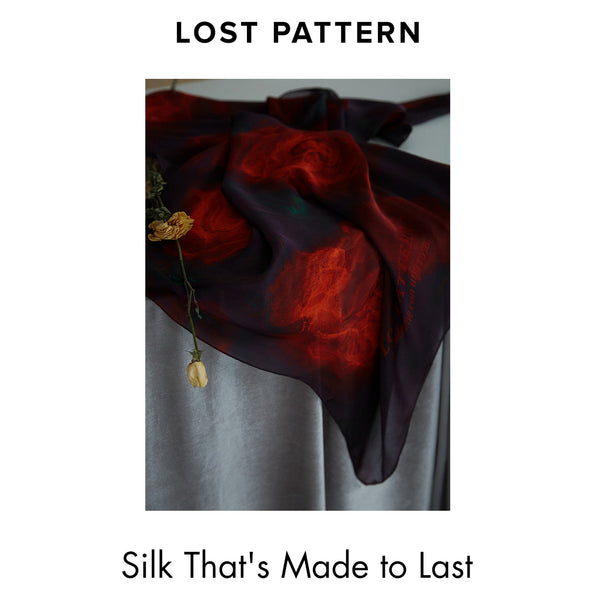 Lost Pattern silk scarves come in three textures: silk satin which is soft, smooth and elegant; silk twill, which has a firmer feel and is easy to style; and silk chiffon, which is a sheer fabric with beautiful drape and crepe like touch. All of them are 100% mulberry silk.
Silk is an investment. Picking timeless styles which you can wear for a long time is what makes silk so precious, and how you care for your silk helps its longevity. Silk is a very durable and delicate fabric and most of us get scared about the idea of caring for them. It is actually not as difficult as you may have thought. Here are some tips to make this process a breeze!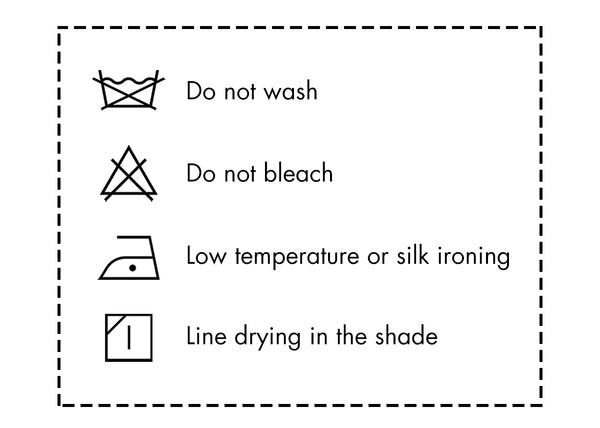 We do not recommend machine wash. You may also take them to silk wash specialist to do the work for you.
Hand washing your silk is preferable, add silk detergent or delicate wash into fresh, cold water, and wash your silk in it. Be gentle to your silk, do not rub, squeeze or twist them. Rinse to wash away the detergent. You may add fabric conditioner in the final rinse to hydrate your silk item.
Do not soak your silk.
Do not mix them with other items or even silk in different colors. We recommend washing one piece at a time.
Never use bleach on your silk.
Tumble drying or spinning the silk item in the dryer will damage the silk, so do not use a dryer.
To dry your silk, press between a clean towel to remove excess water. Hang dry or lay flat to dry. Avoid direct sunlight exposure.
If you have to iron your silk, use low heat or steamed to keep your pieces wrinkle-free. Flip your silk inside out and only iron the inside of it. Do not iron your silk when it is wet. You can place a cloth in between your silk and the iron for protection.
Avoid tying your silk as it can create permanent fold lines. 
Pay attention when you wear your silk while having make-up and perfumes on. Not only can they stain your silk item, it can also damage them.
Moisture, heat and light are not good for your silk. Always keep them in a cool and dry place to avoid the fading in color.
For storage, fold and keep them in the original packaging we provide. You may hang them or keep them in a breathable fabric bag that does not lock in moisture. Plastic bag is a definite no.
Since silk is protein and can attract moths, adding some natural moth repellent at where you store your silk can keep the uninvited guests away.